Best Bagels, Sandwiches & Catering in Hudson & Port Richey Florida are at Bagels Galore.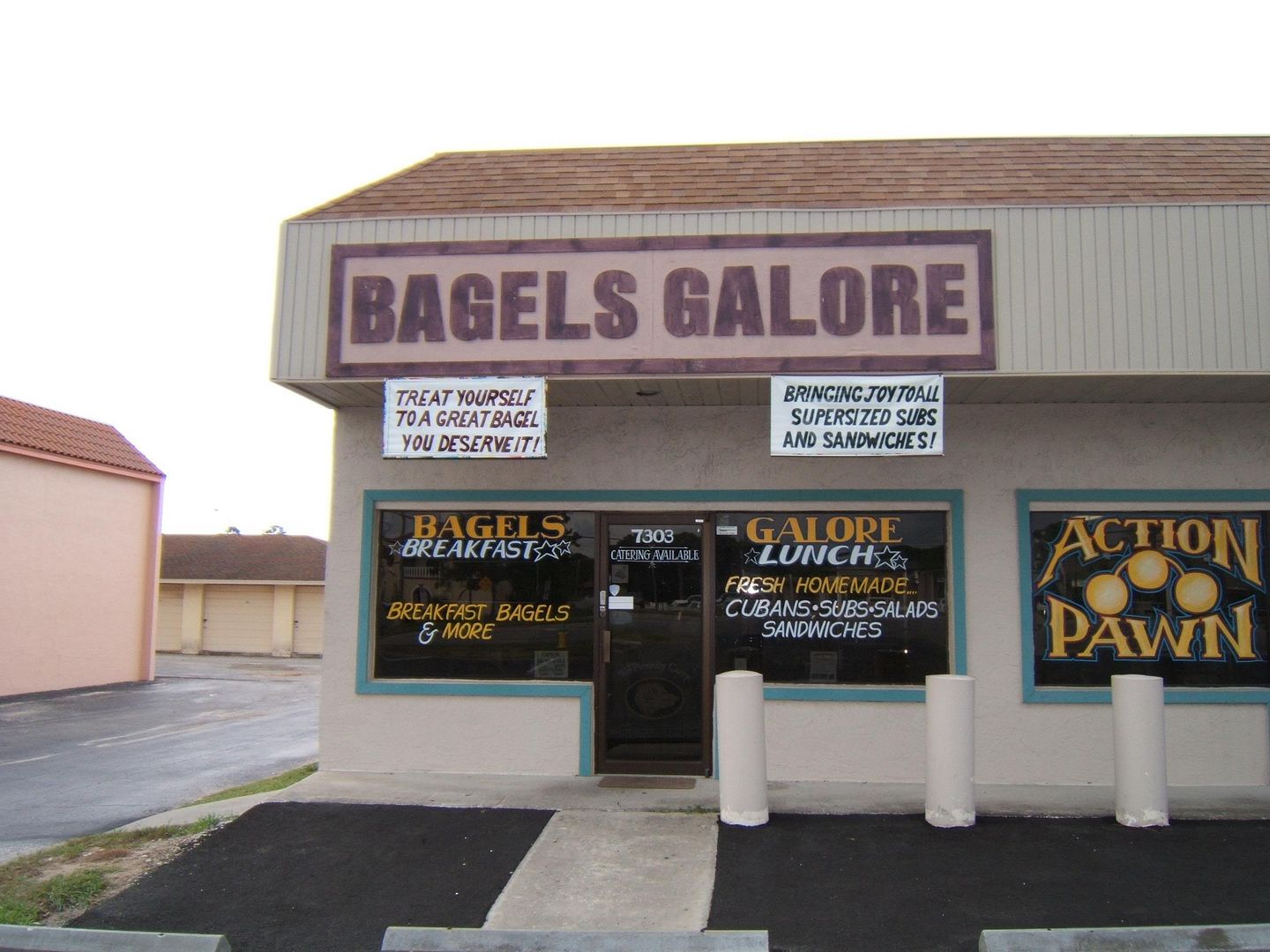 Whether you are looking for a great bagel and lox and/or cream cheese, a tasty hot or cold sub, a healthy salad, or a stuffed potato Bagels Galore is the place for you.
Bagels Galore
7303 State Road 52
Hudson, FL 34667-6712
(727) 869-9659
If you are looking for the best and freshest in town, Than you need to stop by Bagels Galore on State Road 52 just west of US 19.  They have all your favorite bagels in the display counter for you to pick from.  And they will put whatever you want on it.
Do you want to make it an egg sandwich to get your morning started right?  Or perhaps you would prefer to have you bagel with a western omelet on it?  That is my current favorite.  You want Lox on that Bagel?  You got it!  or maybe you just simply want some butter or cream cheese.
The store is conveniently located on SR 52, on the border of Hudson and Port Richey, adjacent to the Racetrack Gas Station I include a picture because Bagels Galore is a charming little shop that, if you blink, you might have missed it.  I know i did the first few years I lived in the area.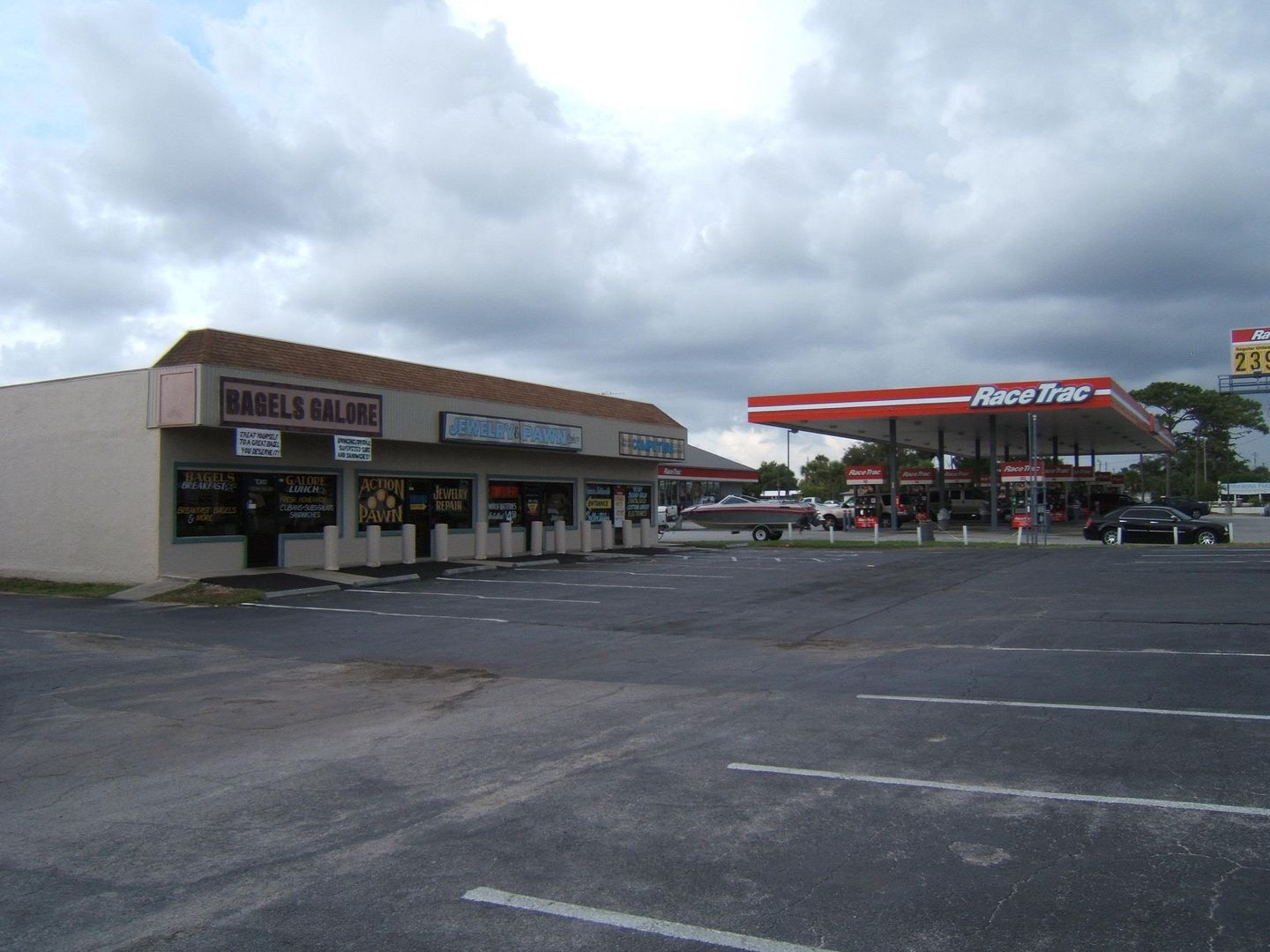 Bagels Galore is so much more than just bagels though.  They have a broad sandwich menu featuring Boars Head meats & cheeses, of course. 
Would you like your sandwich on white, rye, roll, hero, wraps or pitas?  Perhaps you like pressed or toasted subs, well they have something for everyone. 
Dine in or take it to go.  They even deliver for your convenience, just give them a call at (727) 869-9659.  
Do you need an event catered in Port Richey or Hudson?  they set up a wonderful platter at reasonable prices .  Be it for a Breakfast meeting, a real estate closing or a networking meeting. 
But do not delay.  They are only open til 3pm on weekdays and 2pm on Saturday.  On Sunday they take a well deserved rest.  They open at 7 am every day.
As to prices, The most expensive sandwich i can find on the menu is a whopping $6.25.  Now maybe the 'Build your own' option may run a little higher, depending on what & how much you put on your Sandwich.  And they have a daily sandwich special.
You also get to enjoy your choice of Delicious Boar's Head meats & cheeses.  Their sandwiches are available on Bagels, White, Wheat, Rye, Sourdough, Wrap, Sub roll, or pita bread.
You can enjoy their daily specials which come with a 12 oz. Soda & Chips:
    

Monday: All American…………………..$6.75
Tuesday: Reuben……………………….$6.25
Wednesday: Pressed Cuban………….$6.75
Thursday: Chicken Salad on bagel….$5.00
Friday: Meatball Sub……………………$6.75
Saturday: Tuna Salad on Bagel………$5.00
as well as Salads and stuffed Baked Potato's Bagels Galore also offer soups daily 12 oz. for $2.30 and 16 oz. for $3.35
    

Monday:……….French Onion
Tuesday:………Broccoli Cheddar
Wednesday:….Italian Wedding
Thursday:……..Cheddar Bake Potato
Friday:…………New England Clam Chowder
Saturday:……..Chef's Choice
Once you have fallen in love with the food, know Bagels Galore can cater your next event in the Hudson & Port Richey, Florida area.  48 hours notice on all catering orders PLEASE
Party Subs are offered at $11.50 per foot
Continental Breakfast Buffet at $3.95/person
Hot Breakfast Buffet at $5.95/person
Fresh Seasonal Fruit tray at $0.75/person
Homemade Quiche – a 9″ pie serves 10 for $20
Fresh Market Veggie & Dip Tray available
as well as an assorted desert tray.
And best of all the success of this charming mom & pop shop is shared Local.  They are proud to donate to  The Red Cross, Gulfside Regional Hospice, and Local school projects.  Support those that support the community.  As much as is possible is homemade on site including the potato, macaroni & egg salads
And if you have enjoyed what you have read so far, please stop in and give em a try.  Than you can also ask them about their rewards card.  
Buy 5 Lunch or Breakfast Sandwiches get one free 
Buy 10 dozen Bagels get the 11th free
and Let them know that Your Hudson Florida Realtor Daniel J. Hunter recommended them to you.  Or just mention you saw this blog.